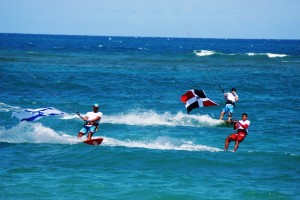 Un gran encuentro deportivo de Kitesurf fue celebrado este domingo en las famosas playas de Cabarete, capital del deporte acuático en la costa norte de la República Dominicana ante la presencia del embajador de Israel Bajih Mansour, la cónsul Adi Farjon y autoridades del Ministerio de Turismo.
El evento deportivo patrocinado por la Embajada de Israel, la cooperación de Master Of The Ocean y Kite Beach Hotel, inició a las dos treinta de la tarde con la llegada de los atletas y las palabras de Mansour quien certificó que la realización del encuentro tiene como objetivo fomentar el intercambio deportivo entre atletas israelíes y dominicanos.
El embajador israelí observó cada detalle del encuentro deportivo, elogió las condiciones espectaculares de la playa de Cabarete y el clima para la realización de los deportes acuáticos, asimismo presentó a los líderes de ambos grupos. Oria Asa, actualmente número dos en el Ranking del Kitesurf de Israel y por la parte dominicana Raul Corniel, competidor junto a su hermano en varios eventos internacionales donde han logrado grandes premios.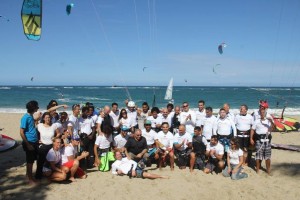 En el equipo israelí fue notoria la participación de Matán, un ex miembro de las fuerzas militares especiales que compite con una pierna artificial de metal articulado que le permite manejarse en iguales condiciones que los demás deportistas del Kitesurf, a pesar de que este deporte requiere de grandes habilidades y esfuerzo físico.
El equipo dominicano, compuesto principalmente por jóvenes demostró sus habilidades en las prácticas previas a la salida haciendo grandes maniobras que les ganaron el respeto de sus pares israelíes. Los jóvenes dominicanos se mostraron contentos por ser parte de un encuentro deportivo internacional en la disciplina que forma parte de su vida.
El evento amistoso concluyó con un suculento refrigerio en el Restarurante Chef Arsenio de la playa El Encuentro en Hotel Hideaway, donde el embajador israelí, cual enamorado de La Novia del Atlántico, manifestó sus deseos de encontrar diferentes vías de cooperación para el crecimiento económico y la amistad entre Israel y la República Dominicana. Agradeció además a los atletas por formar parte de la unidad entre ambas naciones.